Chelsea vs Crystal Palace Match Preview & Prediction
After a disappointing exit in the FA Cup third round to Southampton, The Eagles travel to Stanford Bridge for a London rivalry with Chelsea.
Potter's Blues need a result even more than Vieira's Palace after a 2-1 loss to west London rivals Fulham on Thursday night.
With both teams needing to bounce back from recent defeats, it's a hard match to predict, but we'll give it a shot anyway!
Keep reading for team news as well as our Chelsea vs Crystal Palace prediction.
Crystal Palace team news
Two players that are still missing for Palace are James McArthur and Nathan Ferguson. The young defender was meant to rejoin the squad in training this week, but Vieira didn't give a further update in his pre-match press conference.
Tyrick Mitchell is set to return at left-back after serving his three-match suspension after being sent off against Fulham on Boxing Day. If the England youngster goes straight back in the team, it will mean Vieira will need to pick between Clyne and Ward for who starts at right-back.
Most of the pre-match press conference focused on new signings and what positions Vieira wants to fill. As ever, the Frenchman didn't give a lot away, but he did say that he wants to add a couple of new faces to the team.
With the January transfer window still open, rumours are flying around as always. The Sun reported that Palace might not be able to afford Wan-Bissaka after his form has improved under Erik Ten Hag. It's likely that he'll stay with the Red Devils until summer at least.
We expect Zaha to stay at Palace until summer too, although, with only 6 months left on his contract, clubs might come in with offers.
Chelsea team news
Let's start the Chelsea team news section by looking at the new signing João Felix who is going to miss the match with The Eagles. He looked lively in their match on Thursday against Fulham but he got a straight red for a reckless tackle after a poor first touch.
The Chelsea injury list is extremely long. Players that will definitely be out for The Blues are:
Kante
Sterling
James
Fofana
Chilwell
Broja
Loftus-Cheek
Pulisic
Mendy
Zakaria
Havertz will lead the line for Chelsea and Mount in midfield will have to be influential to help his side bounce back. Chelsea have been linked with many players in the transfer window as always.
Chelsea vs Crystal Palace Prediction
With Potter under enormous pressure to remain in a job, we're predicting a Chelsea home win. That said, there's no better time to play Chelsea as they have a long injury list.
Palace have been poor since the league restarted, only defeating Bournemouth and losing 4-0 to Tottenham at home and 3-0 to Fulham.
The last time these two sides met at Selhurst Park, Gallagher scored a 90th-minute goal for Chelsea to win 2-1.
We're going for a 2-0 win for Chelsea with Mason Mount getting on the scoreboard.
Crystal Palace vs Manchester United Match Preview & Prediction
After missing many matches in September, Crystal Palace now have three Premier League fixtures in the space of seven days. First, they host an in-form Manchester United side on Wednesday night at Selhurst Park.
The Eagles last match on Sunday against Chelsea was a close tie with The Blues only winning by one goal. Palace need a result in this match as the last two home games have been thumpings from Fulham (3-0) and Spurs (4-0). However, getting a result against a Manchester United side that just beat Manchester City to make it nine wins in a row in the league isn't an easy task!
Erik Ten Hag has turned his side around since last season and early on in this season so it's hard to see past an away win for the Red Devils.
Keep reading to see the team news and our Crystal Palace vs Manchester United prediction.
Crystal Palace team news
To start, Andersen was forced off in the first half against Chelsea at the weekend with an injury. He was replaced by James Tomkins who put in a solid performance, seeing as he hasn't had many minutes this season.
However, this could be a huge blow for Palace if the injury is more serious than it first appeared. Vieira confirmed after the match that it was the Dane's calf that was giving him problems and that they had to wait to get the results from the scan before commenting further.
If Andersen is left out due to this injury we think that Vieira might switch to five in defence to counter United's current strong attacking outfit. If he does that we expect to see Tomkins, Richards, and Guehi with Ward and Mitchell playing as wing-backs.
There was no update before or after the Chelsea on the status of James McArthur or Nathan Ferguson's progression. So, will have to wait for his pre-match conference to hear if there's an update since last week.
Manchester United team news
Erik Ten Hag still hasn't called upon Jadon Sancho since the restart of the Premier League in December and it's said that he's under his own training schedule for the time being. The United manager wants his players to be 100% committed or else not bother. With the current form, he won't be too bothered that Sancho isn't available still.
Tuanzebe is another player that is lacking match fitness like Sancho so won't feature in the squad against Palace. Donny Van de Beek is also out with a knee injury just as he started to show good progression since the start of the season.
We expect Rashford to be a key cog in the Manchester United team against Palace and the midfield will be tough with Casemiro dominating in the centre of the park for the Red Devils.
Crystal Palace vs Manchester United Prediction
With Crystal Palace having lost the first two home matches back after the restart, we don't have high hopes in this match against a Manchester United side that are flying and looking to catch Arsenal.
Patrick Vieira often likes to play defensively against the top sides and we think that this will be the case against United. With that said, it's hard to see Palace getting anything from the game even if they did win 1-0 in this same fixture at Selhurst Park last season.
Our Crystal Palace vs Manchester United prediction is going to be 2-0 to the away side with Rashford getting on the scoresheet.
Crystal Palace vs Southampton FA Cup 3rd Round Preview & Prediction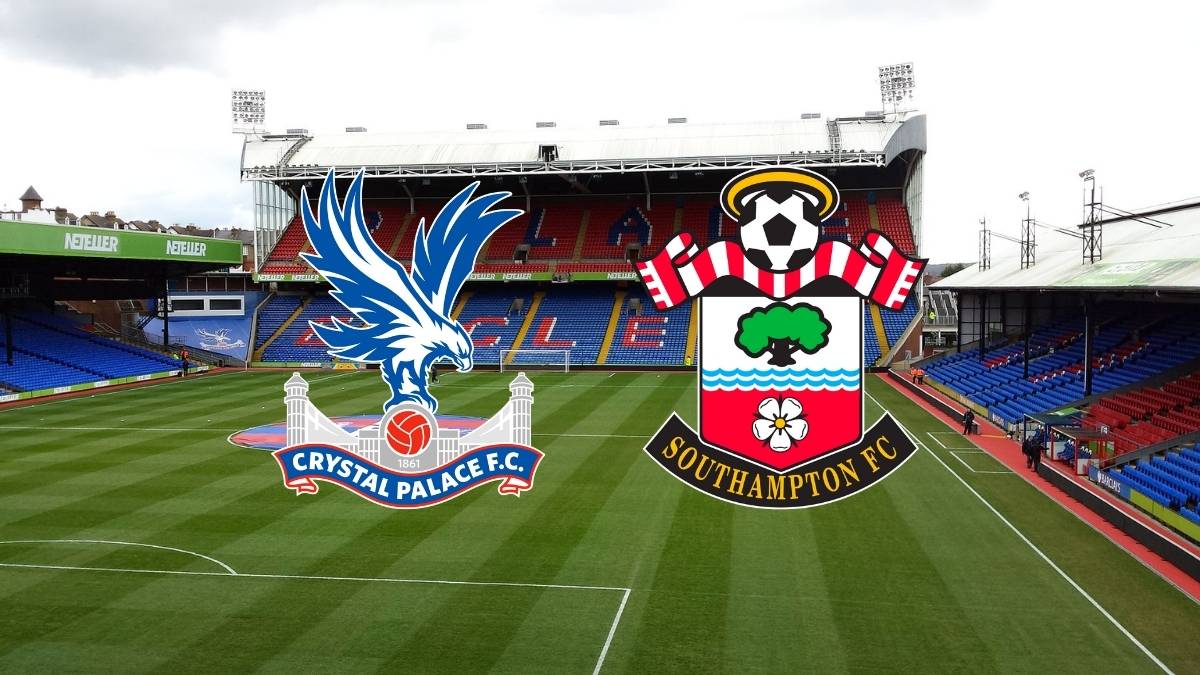 It's the start of January so that means it's time for the FA Cup third round. Crystal Palace have a home tie with Southampton who currently sit bottom of the Premier League table. The Eagles are going into the match after a thumping 4-0 defeat to Tottenham in midweek.
Southampton haven't picked up points in the league since October, but anything can happen in the FA Cup. Everyone at Palace including the fans will want to go on another good cup run like last season when they went out in the semi-finals against Chelsea.
The fact that both teams haven't been at 100% since the league restart has us thinking that it will be a thrilling match with both sides giving it their all.
Keep reading to learn about the team news, injuries, and our Crystal Palace vs Southampton prediction.
Crystal Palace team news
We'll start by looking at which players will definitely be unavailable for the FA Cup third-round tie with Southampton.
Tyrick Mitchell is out as he faces his final match suspension after being sent off via a straight red against Fulham on Boxing Day.
James McArthur and Nathan Ferguson are both still missing too as confirmed by Vieira in his pre-match press conference before the Tottenham match in midweek. Though, there's some good news as Ferguson will rejoin the first-team squad for training next week.
Both Edouard and Mateta haven't been starting recently for The Eagles with Vieira preferring to play Zaha down the middle. We think that this could change this match though as both were brought on against Tottenham in the second half.
Whilst it would be nice to see some academy players get minutes in this match, we doubt that will be the case as Vieira will want to try to go on a cup run.
Southampton team news
Nathan Jones is already being faced with anger from the fans after losing all five of his matches in charge. He's been a bit unfortunate with injuries as key players like Livramento is out until February and Theo Walcott is also out and it's not known when he'll return.
Juan Larios and Alex McCarthy are two more Saints players that are also out, so Jones may have to keep calling upon the younger players in the squad.
The manager and fans will look towards club captain James Ward-Prowse to help push the team forward. Everyone knows that he's capable of the magnificent from set pieces and from long range in the run of play. But, one player can't carry the team.
Crystal Palace vs Southampton Prediction
After two home defeats since the restart of the Premier League, Crystal Palace need to get a win in this match against bottom-of-the-league Southampton.
That said, Southampton have their own problems. A strong performance in this match is vital for manager Nathan Jones, otherwise, he could be sacked in less than 10 matches in charge.
Our Crystal Palace vs Southampton prediction for this FA Cup third-round tie is a home win for The Eagles. It's a must-win match for both sides, but we think Palace's home fans will give the team a boost and get them over the line. Our prediction is a 2-0 home win for Palace.
Crystal Palace vs Tottenham Hotspur Match Preview & Prediction
Although the festive fixtures are over, Premier League matches are still coming thick and fast. Crystal Palace are hosting Tottenham at Selhurst Park on Wednesday evening.
Last year's fixture in south London saw The Eagles beat Spurs 3-0 after Tanganga got sent off with two yellow cards. After a strong performance against Bournemouth on New Years' Eve, Vieira will be gunning for another win, especially against his former rivals from his playing days at Arsenal.
Tottenham have had two poor performances in their first matches back, a 2-2 draw with Brentford and losing 2-0 at home to Aston Villa. There are rumours of Conte being the next manager to be sacked and another poor performance could be the final nail in the coffin for the Italian manager.
Keep reading for the team news of both clubs as well as our Crystal Palace vs Tottenham prediction.
Crystal Palace team news
Vieira will be pleased that Marc Guehi's presence at the centre of defence was restored against Bournemouth. He'll once again partner with Andersen at centre-back. James Tomkins returns after serving his one-match suspension after getting sent off against Fulham on Boxing Day with two yellow cards.
Tyrick Mitchell is still suspended after his straight red against Fulham in the same fixture. This means he'll also miss the FA Cup tie at the weekend with Southampton. As with the win against Bournemouth, Nathaniel Clyne will likely start at left-back with Joel Ward on the right.
Palace switched to a more defensive 4-2-3-1 formation in the last match with Doucoure and Schlupp in the central defensive midfield roles. It was clear in the Fulham match that this was needed so it was good to see Vieira act on it.
When it comes to the two long-term absentees in James McArthur and Nathan Ferguson, both are still ruled out for this match and the FA Cup match at the weekend. However, Vieira mentioned in the Bournemouth post-match press conference that Ferguson will start to train with the squad from next week.
Tottenham Hotspur team news
Tottenham have had to come from behind many times this season, but they didn't manage to claw their way back into the match against Aston Villa.
Bryan Gil started the match against Villa on the right wing alongside Kane in the middle due to Richarlison and Kulusevski being out injured. The Brazilian will definitely be missing for the match against Palace, but Kulusevski could make a return and we all know what a threat he can be.
Yves Bissouma is another Spurs player that's definitely missing from the squad that travels to south London as he's picked up five yellow cards in the first half of the season. Bentancur, another midfielder is also out for Tottenham until the middle of the month. This will mean that someone else will have to support Højbjerg.
Lucas Moura has been out for a lot of the season with an injury and it's not confirmed when he'll be back.
Crystal Palace vs Tottenham prediction
Neither Crystal Palace nor Tottenham have been 100% since returning after the World Cup break. Palace lost 3-0 at home and will want to make sure they don't repeat this scoreline against Spurs.
However, Tottenham have only picked up one point from the two matches back against Brentford and Aston Villa. The north London side have a lot of quality in their team so we know they can turn on a solid display if they want to.
We think that Patrick Vieira might even go with a back five with Richards joining Andersen and Guehi and then Clyne and Ward playing as wing-backs. Conte's Tottenham side are generally more defensive than other opponents so it could be a bit of a boring match if both sides just try to defend. Although, Conte will be going for the win after poor results as we mentioned.
That said, our Crystal Palace vs Tottenham prediction is a 1-1 draw. Like last year at Selhurst Park, we can see a few cards getting handed out too.