Crystal Palace vs Watford Match Preview & Prediction
Crystal Palace host Watford on Saturday afternoon in a North London versus South London derby. This will be the first time that former Eagles manager Roy Hodgson, returns to Selhurst Park since leaving at the end of last season.
It will probably be his last time too as he's confirmed that he'll be leaving Watford at the end of the season and won't be returning to management. Although, by the sounds of it, he'll still be connected to the game in one way or another.
With only four matches left, this is a must-win game for Watford who are pretty much already relegated. Selhurst Park isn't an easy place to come to when you need points and Vieira's men will still give 100% even if they have nothing but pride to play for.
Keep reading the team news for both sides and our Crystal Palace vs Watford match prediction at the end.
Crystal Palace Team News
Only one player is missing from the full squad and this long-term absentee Nathan Ferguson. Vieira did have some positive news about his injury update though as he's back training on the field, although individually.
The manager also stated that the aim isn't to get him back to full fitness before the end of the season, but so that he can take part in the preseason tour.
With everyone else fit, it's going to be a fight for positions again after Zaha didn't start the last game. Vieira mentioned that he can see Zaha playing more often as a striker rather than on the left wing after his last-minute goal against Southampton. But, he admitted that he'll take some convincing as it's not his preferred position.
Eze got his first goal in 11 months too so it will be interesting to see him playing now that he's probably got more confidence on the field.
Watford Team News
Watford could be without Tom Cleverley who picked up a knock in training before the match with Burnley last week. Cathcart also missed the 2-1 defeat with relegation rivals Burnley, but both of them have been back in training with the squad this week.
The Colombian, Cucho Hernández, is the other player in doubt for Watford, although he has been doing individual training on the grass, mainly focusing on running and ball work.
Crystal Palace vs Watford Match Prediction
With Watford losing to Burnley last weekend after being 1-0 up, it's going to be near impossible to see them survive in the Premier League. If Palace win or draw then The Hornets will be the first team confirmed relegated this season.
The last time these two met in the league Palace won comfortably 4-1 and we expect a similar result today. We're going for a Palace win and the score 3-0.
Crystal Palace vs Arsenal Match Preview & Prediction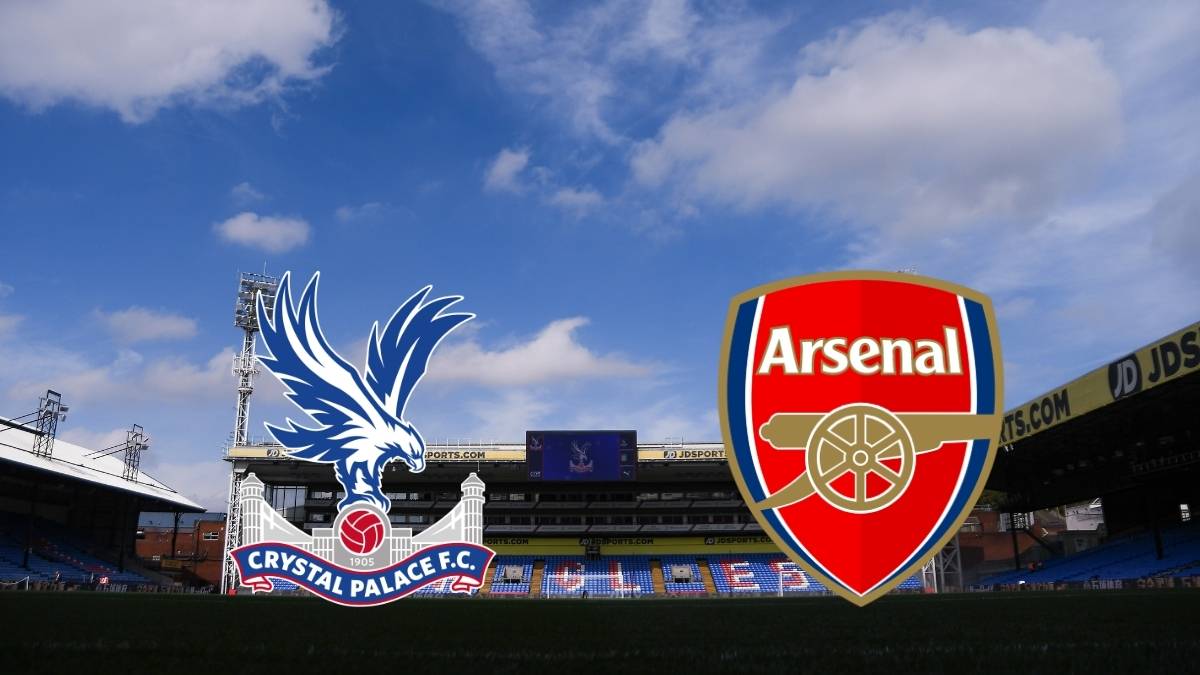 The Premier League season kicks off on Friday night with a blockbuster match between Crystal Palace and Arsenal. Patrick Vieira's old side come to Selhurst Park and they'll be hungry to get off to a flying start after not finishing in the top four last season.
The last match at Selhurst Park between these two sides was a 3-0 thrashing for the Eagles. Palace should've done the double against them too if it wasn't for a late goal to equalise at the Emirates.
This is a new season though and Arsenal have recruited well over the summer so anything can happen. We're expecting this to be a Friday night thriller with the Palace fans in full voice, and we can't wait!
Now onto the team news followed by our Crystal Palace vs Arsenal prediction.
Crystal Palace Team News
Crystal Palace have recruited well over the summer filling gaps that needed filling. Malcolm Ebiowei was the first to join from Derby County and has impressed in preseason. At 18 years old he's a great prospect for the future. He's been handed the number 23 shirt which Conor Gallagher wore last season and he'll want to make an impact like the Chelsea player did.
Next up was Sam Johnstone on a free transfer after his contract expired at West Brom. He'll compete with Guaita for the number one spot and will likely replace him when the Spaniard leaves or retires.
Cheick Doucoure was the most highly-anticipated summer signing for Palace after Lens rejected the first bid. With Kouyate's contract having expired at the end of June, Doucoure will slot into that defensive midfield role.
The most recent signing was American Chris Richards from Bayern Munich. His preferred position is as a centre-back, but he can also play on the right or left at the back. We'll probably see Palace switch to three at the back with two wing-backs more often this season.
When it comes to Palace's injury news, James McArthur is sidelined for the start of the season and is likely to return at the end of August. Jack Butland is also out after he broke his wrist playing against Manchester United in the preseason. He already had a challenge on his hands to compete with Guaita and Johnstone, but now he has to recover from this injury.
Finally, Palace's bright star last season Michael Olise is still feeling the effects of an injury he picked up with the French under-21s in May. He's not back in group training yet so he'll likely be out for the first few matches.
Palace have impressed in preseason both at home and on the tour in Singapore and Australia. Eze, Zaha, and Edouard all looked good in the most recent match against Montpellier.
Arsenal Team News
Arsenal have also been busy in this transfer window having brought in two players from the title-winning side, Manchester City. These are Gabriel Jesus and Oleksandr Zinchenko who are both still top-quality players that wanted more regular playing time by moving to Arsenal.
Three more players signed for the Gunners meaning they've made one more signing than Palace so far going into the season. These are Fabio Vieira from FC Porto, Matt Turner from New England Revolution, and Marquinhos from Sao Paulo.
Regarding Arsenal's injury news, England youngster Emile Smith-Rowe will be out for the opening clash with Palace with a groin injury. Takehiro Tomiyasu, Kieran Tierney and new signing Fabio Vieira are also doubtful for this match.
Palace will have seen how Jesus has netted seven goals in preseason so will need to make sure that he isn't allowed enough space to open his scoring in the 2022/23 season.
Crystal Palace vs Arsenal Prediction
The first weekend of the new season is always one of the hardest fixture lists to call and this match is no different. Both teams have key players missing due to injuries and the new signings haven't had that long to settle.
That said, our Crystal Palace vs Arsenal prediction is a 1-1 draw. Arsenal have looked hungry in preseason and Palace will also be aiming for a top 10 finish this season.
Crystal Palace vs Manchester United Match Preview & Prediction
Crystal Palace's last game of the season will be at home at Selhurst Park. They'll be hosting a Manchester United side that has accumulated the least amount of points in the Premier League since the 2013/14 season. It's been such a poor campaign for United that the players cancelled the end-of-year awards as they said no one deserved it.
Former Arsenal captain and current Palace manager, Patrick Vieira, will want a strong end to the season for The Eagles. After the 3-2 defeat to Everton on Thursday evening, he'll be hoping his team can show more control throughout the whole 90 minutes, not only in one half. 
It will be Ralf Rangnick's last match as Manchester United manager and his first was a 3-0 win over Palace at old Trafford. The Red Devils need to win or hope that West Ham lose or draw, to make sure they get in the Europa League next season and not the Conference League.
There hasn't been a Palace pre-match press conference for this tie yet and we doubt there will be today too. We believe this is due to the incident between Vieira and the Everton fan after the final whistle at Goodison Park on Thursday night.
So, we apologise for the brief Crystal Palace team news below.
Crystal Palace Team News
As we just mentioned, the team news isn't 100% clear as Vieira hasn't spoken to the press before this match. However, what we do know, is that Michael Olise and Nathan Ferguson will both be out and the aim is to have them back for preseason.
James McArthur and James Tomkins are both doubtful too after neither of them travelled to Everton for that match.
Both of these Palace players are out of contract at the end of the season too and we think that Tomkins won't be with The Eagles next season so he'll no doubt get a good send-off from the fans. Though, a question mark still hangs over McArthur's future as he'll be 35 this year.
We expect to see some academy players introduced to the squad as Vieira has said he'd do this in his recent press conferences. Tayo Adaramola and Jesurun Rak-Sakyi will likely be involved at some point, but we'll have to wait and see for sure.
Manchester United Team News
As always, Ralf Rangnick didn't want to say much about Man United's team news, but these are the main points he did reveal.
Luke Shaw has missed training for most of the week as his wife went into labour with their second child. The United interim manager hopes that he will be available for the squad though.
Jadon Sancho and Phil Jones both had to leave Thursday's training session early with different issues and are questionable for the game. United youngster, Alejandro Garnacho, caught an illness during the week and so he is also a doubt for the final league match.
It will be Paul Pogba's last game in a United shirt, but he is also a doubt to be in the squad. We wouldn't be surprised if we saw a few United academy players as there are lots of outgoing players like Pogba and Matic, for example.
Crystal Palace vs Manchester United Match Prediction
The final day of the season is always a difficult one to predict and this match between Crystal Palace and Manchester United is no different.
Whilst Palace aren't playing for much apart from pride, they could sneak into the top 10 if they get a win and the other teams ahead of them lose.
Arguably, Manchester United have more to play for as it's possible they could be in the UEFA Europa Conference League next year if they lose/draw and West Ham win. This would be pretty embarrassing for all the United players that will still be there next season.
For our Crystal Palace vs Manchester United match prediction, we're going to go for a home win, just like when The Eagles beat Arsenal at Selhurst Park. But, our score prediction is 2-1 to Vieira's men.
Everton vs Crystal Palace Match Preview & Prediction
Crystal Palace travel to Goodison Park on Thursday evening for the penultimate match of the season. Everton are fighting to stay up and a win for them will keep them in the Premier League so expect a strong performance from them.
Three points at home would land The Toffees on 39 points, four points ahead of Leeds who only have one game to play.
Vieira's men aren't just going to roll over though and let them win. A win for the Eagles would bring them up to 10th going into the final match of the season.
These two last met in the FA Cup quarter-final when Palace gave Everton a 4-0 drubbing. Everton looked dangerous in the first 20 minutes of that match, but Townsend's injury and Palace's ability to soak up the pressure led to four goals for The Eagles after this bright start.
Keep reading for the team news for both sides and our prediction.
Palace Team News
Palace will be without quite a few players that are out with injuries. Vieira had already confirmed in his last press conference that Michael Olise will be unavailable for the remaining two fixtures. Long-term absentee, Nathan Ferguson, also won't make it back before and the aim is to have him fit for preseason.
James McArthur didn't travel with the team for the 1-1 draw with Aston Villa and he's another who will be out.
Vieira also confirmed that James Tomkins won't be in the squad, but he's only made 8 appearances all season anyway. Both he and McArthur are out of contract at the end of the season and we'd be surprised if Tomkins stayed beyond this campaign.
With Palace not having anything to play for it's allowed the manager to experiment with the formation. Once again, he tried the 3-5-2 formation that he'd played against Chelsea in the FA Cup semi-final against Villa at the weekend. Whether he keeps this for the match with Everton is another story though.
Everton Team News
Lampard's Everton side also have many injuries as well as a couple of suspensions. Ben Godfrey is fighting to get fit and he'll likely be in the squad, but is doubtful to start.
Michael Keane has recovered from an illness so he'll return to the centre of the defence likely alongside Holgate as Yerry Mina is out injured. Former Palace player Andros Townsend is still out after going off injured when he faced his previous club in the FA Cup.
Fabian Delph is another Everton player who is out injured this time with a muscle injury so he won't feature. Calvert-Lewin remains fit even though he was seen stretching in the Brentford match and United loanee, Donny van de Beek, will be in the squad.
The two players out due to suspension are Jarrad Branthwaite and Salomon Rondon after the pair were sent off against Brentford.
Everton vs Crystal Palace Match Prediction
Palace have looked in good form in this last stretch of the season, but the Everton players are fighting for the club to stay in the Premier League. This makes it a tough match to predict, but we're going to go for an Everton win.
The players won't be wanting to take their destiny to the final day of the season when they travel to the Emirates to face Arsenal. That's why we can see them beating Palace to keep them up in front of the home fans. They'll also want to show everyone that the 4-0 defeat to Palace in the FA Cup was a one-off.
Our Everton vs Crystal Palace match prediction is 2-1 to the home side to keep them in the Premier League.