Textor invests in Belgian club RWD Molenbeek
John Textor, one of Palace's co-owners has been announced as the new owner of Belgian side RWD Molenbeek. This news comes just days after it was announced that he had also agreed to a 90% ownership deal for the Brazilian club Botafogo.
Breaking News: R.W.D.M has found an arrangement with investor John Textor (USA)! #RWDM pic.twitter.com/fANZV03qmd

— R.W.D.M (@RWDMolenbeek) January 12, 2022
The American businessman is clearly in the market for football teams around the world. We wouldn't be surprised if he had another deal in the pipeline. The global pandemic has hit all businesses hard, especially football clubs that haven't been able to play at full capacity during the height of the pandemic.
What's also clear is that he wants to invest in clubs that have the potential to grow. R.W.D Molenbeek is currently in the second league and only first is promoted to the top Belgium league.
RWDM is known for producing young talented footballers at their academy. Adnan Januzaj and Michy Batshuayi are two of the most famous names that have graced the Premier League.
Words from Molenbeek's President
"We are very much looking forward to working with Mr Textor, who has a great passion for football, developing young talent and the RWDM rules," said President Thierry Delle.
"Thanks to this investment, RWDM will be able to continue professionally and be able to realize its future ambitions. John Textor's access to the club's capital will help develop the team, club infrastructure and youth categories," says the statement from the Belgian club.
Textor's comments
John Textor hasn't been on the club's TV chanel yet like with Botafogo, but he did have this to say to Belgian Eleven Sports:
"I've seen Molenbeek play. I'm a subscriber to your channel, I realized that when I saw the microphones. I've been following Belgian football and the national team for a few years now. I like to watch various football matches both live and through streaming platforms. I saw four or five Molenbeek games and loved the style of play. It's a technical style, with a lot of combinations and it's entertaining football"
Another American investor in Belgium football
Textor isn't the only American businessman to invest in Belgium football clubs. Another of Palace's co-owners David Blitzer owns Waasland-Beveren who are in the same division as Molenbeek. That's going to be a fun battle between the two Palace owners.
The chairman of Crystal Palace's rivals Brighton, Tony Bloom, is also invested in a Belgium side – Union SG. They were promoted last season from the First Division B after winning the championship.
Maybe there will be some loans between Palace and Molenbeek like what happens with clubs with the same owners.
Crystal Palace Unveil New Away Kit for 22/23 Season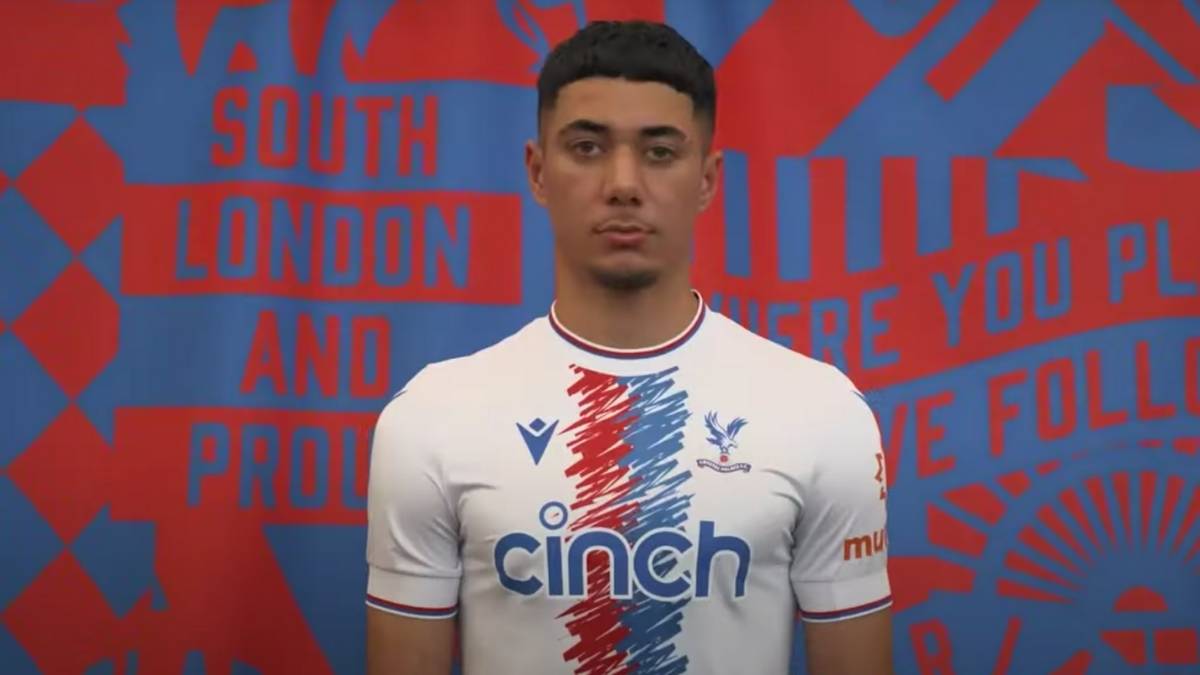 Crystal Palace have released photos of the new away kit and it looks like it's a hit with the fans. The kit is all white with the club's famous red and blue colours in the centre of the kit. You can see what it looks like in the image above.
As we reported, Palace have changed the front of shirt sponsor from the betting website W88 to the specialist used cars sales website cinch. As well as this, Macron replaced Puma as the technical kit partner so all three kits will have a different feel to them than in previous years.
You can see more photos from the away kit release photo shoot below.
From the shoot 📸#CPFC

— Crystal Palace F.C. (@CPFC) June 25, 2022
The release date for the home kit is still not known, but we expect it to look as good, if not better, than the new away kit above.
Palace fans can now preorder the kit via the shop on the club's website or else it will be for sale in shops from August.
Crystal Palace Strike Kit Deal With Macron
Crystal Palace have announced that next season's kit will be made by the Italian technical kit brand, Macron. The Eagles worked with this brand back in 2014 until 2018. Macron will replace the current technical kit provider Puma in this upcoming season.
The club's press release didn't announce the contract length with Macron but it will most likely be more than just the one season. Macron is older than you think after it recently celebrated its 50th year in business.
The Italian company knows what is needed for sports kits as they are the third largest technical brand in European football. They also have a large chunk of the European rugby market.
This deal comes a month after the main front of shirt sponsor was announced. Asian betting brand W88 is being replaced by the second-hand car website, cinch.
Crystal Palace commercial director Barry Webber said: "Macron is an ambitious sports brand known for its innovation in materials as well as its style, and having formed an excellent working relationship with them in the past, we are pleased to be collaborating on Crystal Palace kits once again.
"We look forward to presenting the new strips to supporters in the coming weeks, alongside our new front of shirt sponsor Cinch".
Macron Senior Sports Marketing Manager Ross Cook, said: "We are delighted to be working again with Crystal Palace Football Club having had such a positive relationship together, and to re-partner with such a strong club which has a long and rich history, is something very special for us.
"We have already started working hand in hand with the club to develop unique and exclusive collections created for their elite athletes as well as an extended apparel range for fans, all of which are driven by technical innovation, stylistic research, attention to detail and Italian flair alongside adapting to the club's history and traditions."
Crystal Palace Premier League 2022/23 Season Fixtures Announced
Crystal Palace fans as well as every football fan in the country will be looking at the schedule for the 2022/23 Premier League season today.
The Eagles will play the opening game of the new season against Patrick Vieira's former side, Arsenal. It will be a tasty Friday Night Football fixture as both sides want to make progress on last season's table finish.
It's not going to be an easy start for Palace though, with the first four games including trips to Anfield and the Etihad. Although Vieira will be hoping he can beat City away from home like last season.
Obviously, these fixture dates and times could change due to cup draws, the World Cup being this year, or any other reasons that arise.
Still, here's the full Crystal Palace schedule for the new season.
05/08/22 – Palace vs Arsenal (20:00)
13/08/22 – Liverpool vs Palace (15:00)
20/08/22 – Palace vs Aston Villa (15:00)
27/08/22 – Manchester City vs Palace (15:00)
30/08/22 – Palace vs Brentford (20:00)
03/09/22 – Newcastle United vs Palace (15:00)
10/09/22 – Palace vs Manchester United (15:00)
17/09/22 – Brighton & Hove Albion vs Palace (15:00)
01/10/22 – Palace vs Chelsea (15:00)
08/10/22 – Palace vs Leeds United (15:00)
15/10/22 Leicester City vs Palace (15:00)
18/10/22 – Palace vs Wolverhampton Wanderers (20:00)
22/10/22 – Everton vs Palace (15:00)
29/10/22 – Palace vs Southampton (15:00)
05/11/22 – West Ham United vs Palace (15:00)
12/11/22 – Nottingham Forest vs Palace (15:00)
26/12/22 – Palace vs Fulham (15:00)
31/12/22 – A.F.C. Bournemouth vs Palace (15:00)
02/01/23 – Palace vs Tottenham Hotspur (15:00)
14/01/23 – Chelsea vs Palace (15:00)
21/01/23 – Palace vs Newcastle United (15:00)
04/02/23 – Manchester United vs Palace (15:00)
11/02/23 – Palace vs Brighton & Hove Albion (15:00)
18/02/23 – Brentford vs Palace (15:00)
25/02/23 – Palace vs Liverpool (15:00)
04/03/23 – Aston Villa vs Palace (15:00)
11/03/23 – Palace vs Manchester City (15:00)
18/03/23 – Arsenal vs Palace (15:00)
01/04/23 – Palace vs Leicester City (15:00)
08/04/23 Leeds United vs Palace (15:00)
15/04/23 – Southampton vs Palace (15:00)
22/04/23 – Palace vs Everton (15:00)
25/04/23 – Wolverhampton Wanderers vs Palace (19:45)
29/04/23 – Palace vs West Ham United (15:00)
06/05/23 – Tottenham Hotspur vs Palace (15:00)
12/05/23 – Palace vs A.F.C. Bournemouth (15:00)
20/05/23 – Fulham vs Palace (15:00)
28/05/23 – Palace vs Nottingham Forest (16:00)